Looking for R and SAS Datasets from my LinkedIn Learning Courses?
Get your easy access here!
LinkedIn Learning Course List
Download R Datasets from Courses
Download SAS Datasets from Courses
When Downloading BRFSS Data from BRFSS, You Can Start By Googling BRFSS
The results should look like this (minus the annotations):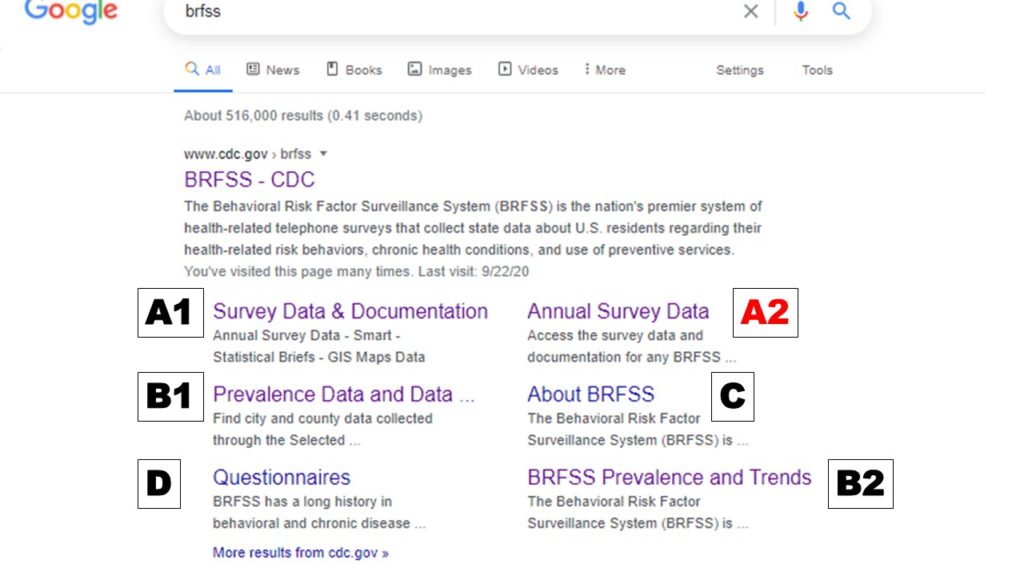 Let me explain my annotations:
All of these links lead to some place in a hierarchical menu at the BRFSS web site.
A1, B1, C and D are at the top level of the menu hierarchy. A2 is below A1, and B2 is below B1.
A2 is in red because it brings you directly to the place you want to be for downloading BRFSS data, but I'll explain the other parts of the menu as well.
When Downloading BRFSS Data, the Navigation is not Obvious
To give you an example, I clicked on the About link, and the annotated screen shot is below: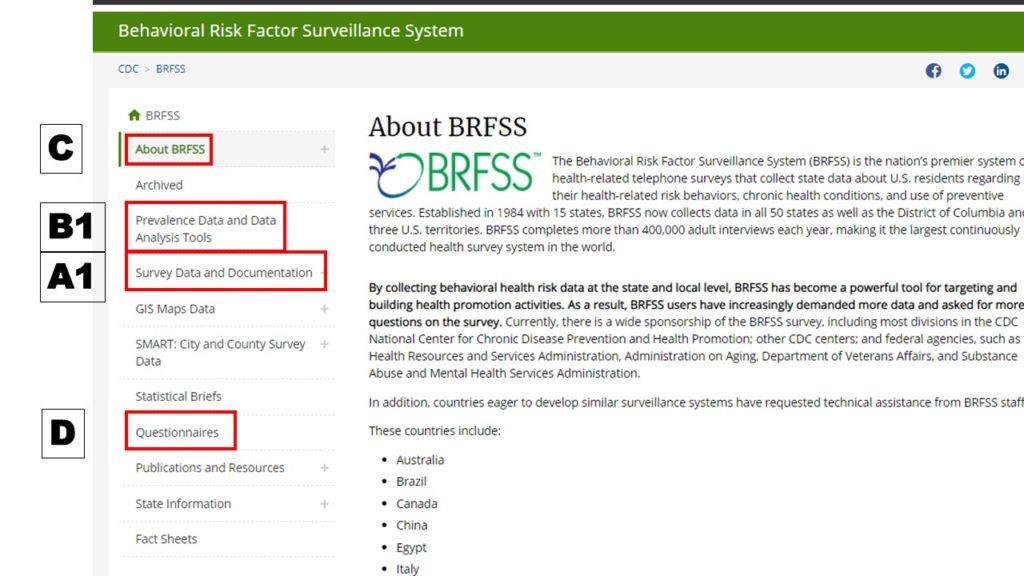 Through my labeling this diagram with the same letters in my last diagram – C, B1, A1, and D – you can see the tops of the hierarchy. But remember, I said we wanted A2 for downloading BRFSS data. It's hard to see on the diagram, but there is a little plus on the right side of some of the entries, including B1, A1, and some entries below them (GIS Maps Data and SMART: City and County Survey Data).
Before Downloading BRFSS Data, You Have to Find Them
If we expand that plus for A1, and go to the 2018 link for Survey Data and Documentation, we see this: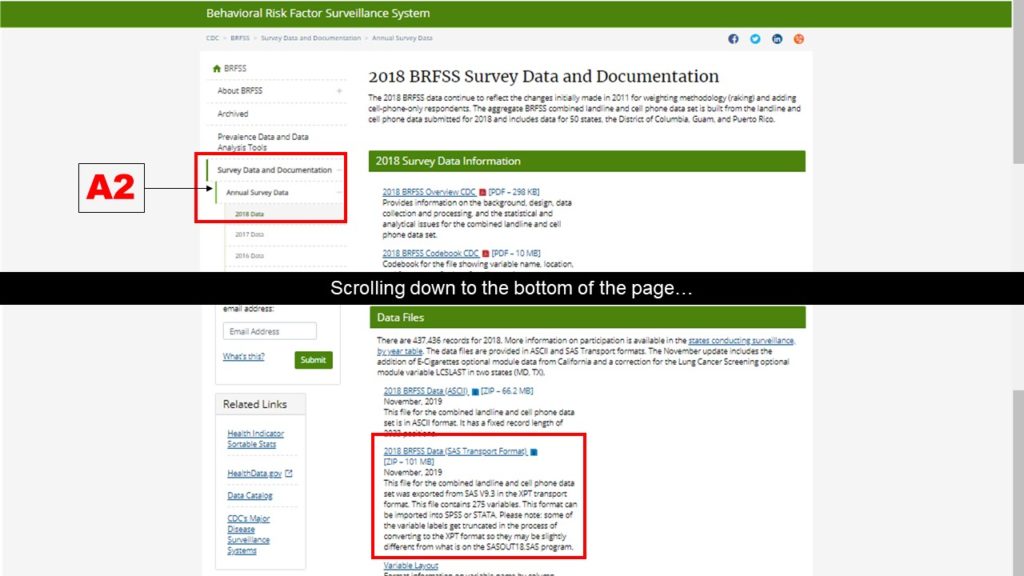 As you can see, the level of A2 is Annual Survey Data, which is where you could have gone directly from the Google results. You will see I clicked on the 2018 dataset page, because many of my tutorials use this dataset.
But these data pages are very long. There is documentation (like the codebooks) in the upper parts of the page, and it's not until you scroll down that you see the data files. I've indicated the place to look for the SAS XPT file to download, but if you need ASCII, you can click the link above it.
Read all of our data science blog posts!
Updated October 14, 2020. Added FTC disclaimer December 5, 2020. Updated banners June 15, 2023. Revised banners August 17, 2023.
I use the datasets from the Behavioral Risk Factor Surveillance Survey (BRFSS) to demonstrate in a lot of my data science tutorials. The BRFSS are free and available to the public – but they are kind of buried on the web site. This blog post serves as a "map" to help you find them!