Public Health Rebrand to Data Science Program
This one-year online program is designed specifically for public health practitioners – such as people with a Master's in Public Health (MPH) or equivalent. The program will provide you a data science learning community outside of your workplace to enable you to have data science experiences so you can prepare for and get integrated into a data science team in a new career and job position.
Program benefits:
One-on-one mentoring with a dedicated data science mentor
Personal goal plan with educational resources and experiences designed specifically for program participants
Participation in a supportive learning community of others doing a public health rebrand
Support for changing job positions, and becoming integrated in a new data science position
Professionally-facilitated events aimed at providing professional support, networking, and hard and soft data science skillbuilding
Sign up for a 30-minute Zoom call to meet Monika, data science mentor, and learn more about this program.
Public Health Rebrand in One Year: Self-Paced Program
Below is a diagram of the self-paced public health rebrand to data science mentoring program. It is a four-phase program. The reason the program is self-paced is that you can get through it as quickly or as slowly as you like through your one year of participation. You can take the entire year to do all four phases, or your can get them done in a few months, and then spend the rest of the year on custom projects.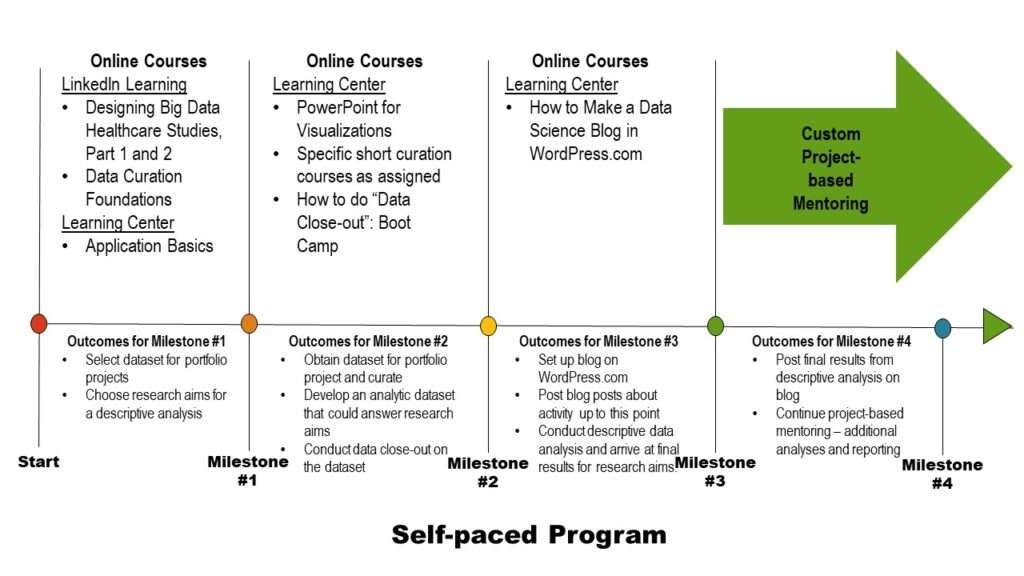 Description of Program Phases
In this program, you will start by selecting a source dataset or datasets, and a descriptive research aim. At that point, you will have completed Phase 1, and be ready to move on to Phase 2.
During Phase 2, you will design, develop, curate and close-out an analytic dataset designed to answer this aim. After that, you will be ready for Phase 3, where you will proceed to analyze this analytic dataset to answer the research aim.
All of this will culminate in Phase 4, where you develop a data science blog on WordPress.com, and post your curation/close-out files as well as your research results on your blog so you can share your project with the data science community.
At that point, you will have completed Phase 4. If there is still time left for your participation in the program, we can continue further. We conduct more descriptive analyses with the same analytic dataset, or we can develop a regression or more complex analysis. Whatever you choose to do, you can continue posting your progress on your data science blog.
Below is a description of the framework for each phase.
Phase 1: Choosing a Dataset and Research Aim
To start Phase 1, you will need to take a few online courses.
Study Design: You will need to learn how to develop a descriptive research aim for an existing dataset. You will learn this by taking these LinkedIn Learning courses in Designing Big Data Healthcare Studies (part 1 and part 2). They cover epidemiologic approaches to using secondary data in analyses.
Part 1 is 2 hours and 15 minutes, and Part 2 is 1 hour and 35 minutes. You will be awarded an online certificate for each one you complete.
Data Curation: Data curation skills are needed to document the datasets you will use during your participation in the program. To gain basic data curation skills, take this LinkedIn Learning course, "Data Curation Foundations" (5 hours). This course provides you specific skills in using Microsoft Word, PowerPoint, and Excel. You will be awarded an online certificate when you complete this course.
Application Basics: A lot of data that data scientists analyze come out of various types of applications. However, we don't learn much about data that come from applications in when we go to college and study public health and healthcare. Included in your mentor program participation is access to this custom program learning center course, "Application Basics" which will provide you the necessary background and terminology if you want to use a dataset that originates in an application for your project.
The course includes six hours of course activities, including three challenges, three chapter quizzes, and a final exam. You will be awarded an online certificate when you complete this course.
Once you have all this background, you will be ready to visit our curated datasets page and select a dataset to use for your portfolio project. Need ideas? Check out this blog post where I provide three examples of ideas you could do for a portfolio project. You will also be able to choose a descriptive research aim to guide your analysis.
Phase 2: Preparing and Closing out an Analytic Dataset
By now, you will have obtained your source datasets, and will need to operationalize the variables so you can create an analytic dataset to answer your descriptive research aim. In order for you to be able to communicate with other program participants and your data science mentor, you will need gain advanced data curation skills.
A lot of data curation is done with visualizations, and the easiest tool for this is Microsoft PowerPoint. Therefore, the focus of the program-specific learning center resources have to do with using PowerPoint to do advanced data curation.
PowerPoint for Visualizations Course plus Short Curation Courses as Assigned: The "PowerPoint for Visualizations" course teaches how to use specific PowerPoint features that are particularly useful to leverage for visualizations and data curation files. You will be awarded an online certificate when you complete this course.
After the program participant completes this foundation course, their data science mentor will assign different curation short courses depending upon their specific portfolio project. The short courses will consist of a didactic portion followed by a challenge and assessment. Each short course will award its own online certificate.
How to do "Data Close-Out" Boot Camp: This is a comprehensive course on how to close-out and serve up datasets from research studies. You will be doing a miniature version of this in the mentoring program with your analytic dataset.
This course is an intense boot camp. It includes 3 hours of video content, 9-10 hours of course activities with quizzes, 7 case studies, and 5 challenges and solutions. It builds upon the data curation foundation you already have by this point in the program, and provides advanced guidance on how to document and serve up research datasets. You will be awarded an online certificate when you complete this boot camp course.
Phase 3: Answering Your Research Aim and Setting Up Your Blog
In Phase 3, you will work behind the scenes to develop the statistical code, data, tables, figures, and other files to answer your research aim. You will also learn how to use WordPress.com and set up a data science blog.
How to Make a Data Science Blog in WordPress.com: This course, which is custom-designed for program participants and is part of our learning center, shows an example of setting up a WordPress.com blog to showcase a data science portfolio project. It provides you the knowledge and skills to develop blog posts to showcase your curation/close-out files and the results of our analysis which you will post in Phase 4. You will be awarded an online certificate when you complete this course.
Phase 4: Posting on Your WordPress.Com Blog
At the start of Phase 4, you should have two sets of offline files: data curation/close-out files from developing your analytic dataset, and results files from answering your research aim. Your data science mentor will guide you to posting these deliverables in posts on your WordPress.com blog (following the example from the course you took in Phase 3).
Beyond Phase 4: Custom Mentoring
Once you complete some posts on your data science blog to showcase your curation and your research aim results, if there is still time left for your participation in the program, you can propose unique research questions, answer them, and post the results on your blog.
Current Challenges in Public Health
These days, there are many public health jobs available all over the world, but let's face it – they don't pay very well. Also, they tend to be very demanding. They require long hours of work, and very specific skills and training. However, in the end, they are not very prestigious, and the salaries are not that high.
Back in 2011, when I left my public health job at the US Army, I was also feeling frustrated with the pace of my work. I felt like management had been terrible at most of my public health jobs, and therefore, we were unable to get much work done. So even though I had gone into this field not to make money, but to do good – I really wasn't getting much good done.
Whether you are new to public health – just graduating with a doctorate or a master's degree – or you are like me, and have been in the field awhile, you can see the writing on the wall. With the pandemic and all the other problems with health and healthcare it exposed, these public health jobs have now become very abundant – but they are literally no fun. With the anti-mask and other anti-vaccine sentiments out there, some public health jobs now are downright dangerous.
Public Health Rebrand to Data Science
What does it mean to do a public health rebrand to data science? What it means is that if you are a public health practitioner, you are already way ahead of the programmers and engineers in the data science field in some ways – specifically, when it comes to health domain knowledge, and knowledge of research methods and statistics. But as you probably realize, you are way behind them in other ways. Programmers and engineers use different terminology for the same things we talk about in public health. Their terminology tends to come from business and management – topics we really do not formally study in public health. So there is the issue of translating our research knowledge to a different domain.
But there is also a big culture difference. From 2002 to 2003 and then again from 2004 to 2008, I worked in an IT department. The vibe of the IT department is exactly the vibe of the data science field – spontaneous, informal, innovative, improvising, creative, non-hierarchical, and energetic. On the other hand, public health has a totally different vibe – deliberate, calculated, formal, structured, hierarchical, historical, academic – and above all, ponderous and slow. Just compare any SAS webinar (aimed at public health practitioners) to webinars for software aimed at other data scientists, and you can see the culture difference.
So even if a public health practitioner can blow away a typical data scientist with her research and statistics skills, it can be very daunting – even scary – for such a person to try to integrate herself for the first time into a data science team.
Want to Find out if the Public Health Rebrand Program is Right for You?
If you schedule a 30-minute Zoom meeting with me, I will go over the program with you, and ask you questions about your opinion about the program. This will help determine if the public health rebrand program is right for you.
Last updated June 7, 2023. Added link to portfolio project example post on July 13, 2023. Added PowerPoint for Data Visualizations July 22, 2023. Added services slider September 4, 2023.
Learn about our different free and paid services!
Learn about our online data science group mentoring program, and find out if it is right for you!