Are you struggling to get through your public health degree? Maybe you need to finish a master's thesis, but you are stuck on the statistics. Or, you let's say you are a doctoral student, and your committee is not really helping you. You find yourself relying on online resources – like MPH online learning modules – but often, they are not good enough for what you need.
That's the kind of work my business does – "high-touch" teaching. You hire me to meet with you regularly online or in person – like once a week – and we work together to finish your project.
I also teach you how to work with your committee so they think they did it all – not you and me. Then you graduate and move on – and maybe even publish a peer-reviewed article with me later! My student customers end up being my colleagues for life, and we make beautiful science together. And since a lot of them are getting their master's in public health, I really benefit from using these MPH online learning modules as part of my teaching.
A Shoutout to Boston University's MPH Learning Modules
I moved to Boston in 2008 after getting my public health degree at the University of Minnesota School of Public Health (SPH) in 2003 – long before I even contemplated MPH online learning modules. I observe that a lot of my public health customers move to Boston to get public health degrees, but they usually are enrolled at Harvard, Tufts, or Northeastern University (NEU), and not Boston University (BU). That's because, in my opinion, the Harvard, Tufts and NEU programs are far inferior to the program I went through in Minnesota, and students need my paid help to get them through an already expensive program.
I've observed that the only customers I don't have regularly are ones from BU's public health programs. The few I've had from BU tell me the program is so good that they don't need help from a tutor in general. When they talk about their educational experience, they remind me a lot of my colleagues who went through the SPH program with me.
So if your question is, "Monika, what in-person MPH program do you recommend in Boston?" my answer is "Go to Boston University".
Boston University's MPH Online Learning Modules Cover Many Important Public Health Topics
I'm not sure the exact reason why they worked so hard to put up these modules, but I surmised that it was to provide a consistent resource to all public health professors at the college. That way, they can use these MPH online learning modules as a basis to ensure that all MPHs at their school receive at least the basic information. These modules are presented as a free, online, publicly-available teaching and digital learning portal that I reference constantly when teaching students public health concepts. See below a screen shot from their entry page that shows the topics of each of their modules.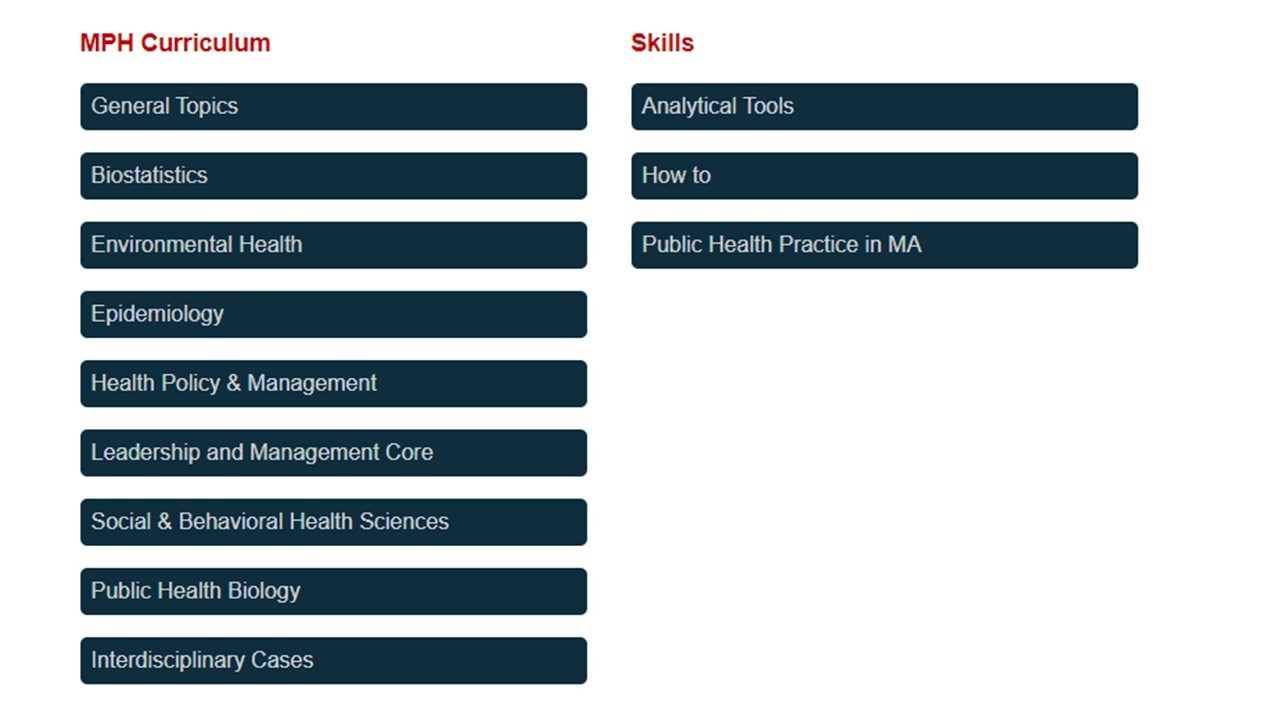 Subsections of the Epidemiology Module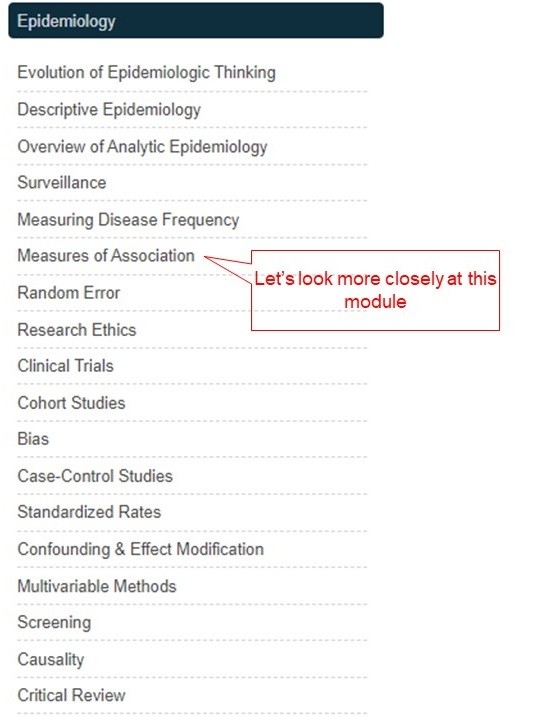 Even when I was in school, it was hard for my professors to find quality material explaining epidemiology that wasn't too complicated. I like these BU modules because they take the careful time and space to unpack each of the different concepts quite accurately and clearly.
When you click on each module, you will see it expands into subsections. Of course, since my specialty is epidemiology, that's where I really need teaching materials to help my students understand. I often find myself teaching lessons on Measures of Association, so let's look at what happens if we expand that subsection.
Pages/Primary Topics of the Measures of Association Subsection
Each module has multiple subsections, as shown on the left, and each subsection has multiple pages. Each page has text and examples. What's amazing and awesome for the educator is that all the pages are clear and accurate, and many have good educational features, like self-challenge questions. They make excellent references for online teachers and students.
I will use the Measures of Association subsection (which I refer to a lot when I teach) as an example. This table shows you the eight pages and primary topics in this subsection.
Introduction
Learning Objectives
Comparing Risk Among Two or More Exposure Groups
Two by Two Tables (2×2) or Contingency Tables
Risk Ratios and Rate Ratios (Relative Risk)
Multiple Exposure Groups: Using a Reference Group
Risk Differences and Rate Differences
The Population Attributable Fraction
Measuring Association in Case-Control Studies
But there is a downside, and that is that the module is set up in an antiquated way, so it is not very easy to consume.
Lack of Technological Update is a Challenge in Boston University's MPH Online Learning Modules
Because of the old-fashioned web-site function, modern learners might find the modules clumsy to use. I'm going to demonstrate this using their module on Measures of Association as an example. I annotated page eight from the table above, about Measuring Association in Case Control Studies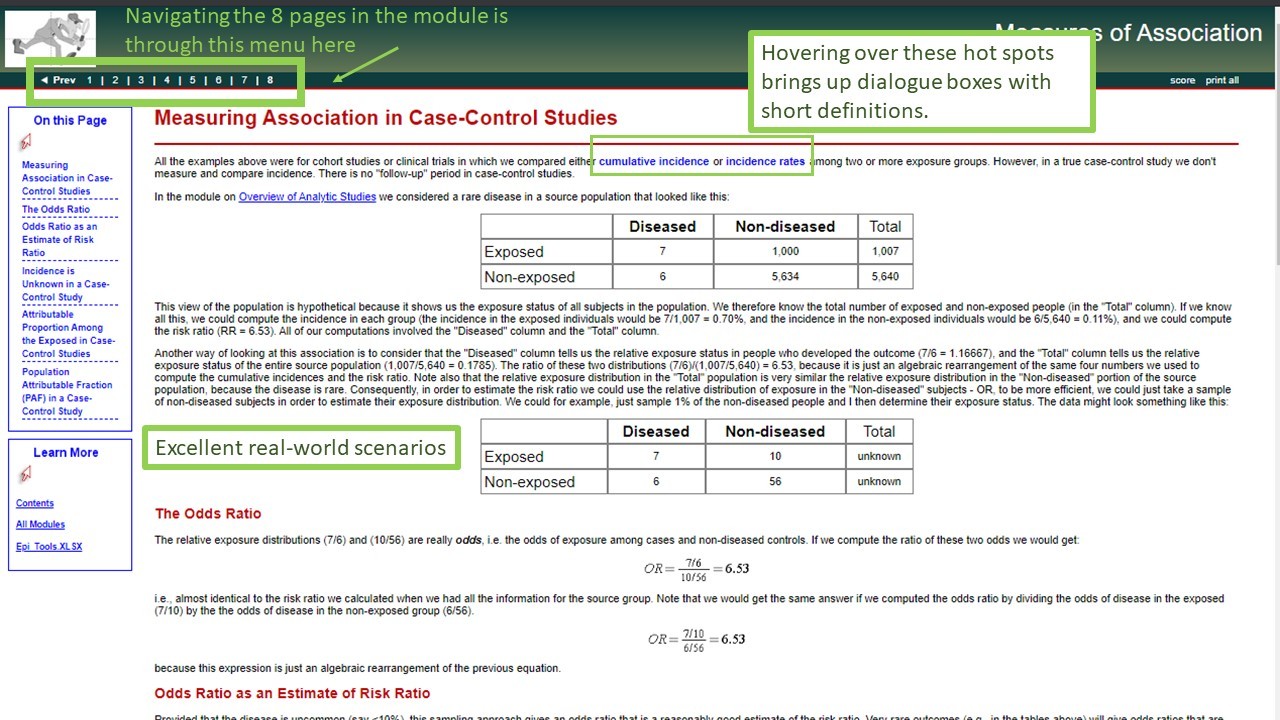 As you can see, the breadcrumbs navigation at the top, along with the left side navigation, the tiny text, and the lack of any modern features can be a shock to the system of a younger learner, who isn't used to interacting with very old-fashioned pages like this.
That being said, if you are an online professor, this module still is a great resource. You can easily link to any one of these pages in these modules as extra information for your students. You can also look at the modules and adapt their examples in our course, while being able to provide a link to the original module for supplemental reference.
All in all, the fact that BU's module looks like it needs a makeover is not a dealbreaker. This is still the best module I've found on the web for teaching public health – especially epidemiology – and I strongly support its use in higher education.
Photograph of Boston University Medical Campus by Cmcnicoll.