From 2012 until recently, I was an adjunct lecturer at Laboure College in Milton, Massachusetts. At that time, I taught a course called, "Essentials of Statistics" in person, in a hybrid setting, and entirely online.
Purchase Study Materials & Curriculum
Resources on this Post
Free
Online Materials
Based on quality statistics textbook
Student Package
$50
Quiz Prep Study Guides
Zip file of all the Quiz Preps demonstrated
Includes blanks and annotated answers!
Pay through Paypal (can use credit card)
Professor Package
$75
Quiz Prep plus Quizzes
Includes Student Package plus matching quizzes
Microsoft Word format but can be programmed online
Quizzes match Quiz Preps and include answers
Pay through Paypal (can use credit card)
Textbook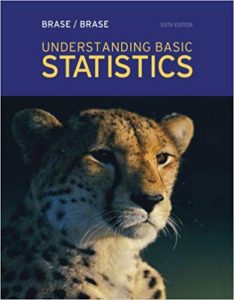 In general, I would recommend using this series of textbooks by Brase & Brase called, "Understanding Basic Statistics". I taught from the 6th edition (pictured) because that was available in 2013, when I originally developed the lectures (although I did not record them until 2015). However, you can get the 7th edition and it is virtually the same.
Lectures and Demonstration
First, I picked out just certain parts of the book that I was going to teach. This is what I finally chose:
Chapter 1 – Basics
Chapter 2 – Frequencies & Distributions
Chapter 3 – Measures of Central Tendency and Variation
Chapter 4 – Correlation and Linear Regression
Chapter 7 – Z-score and Central Limit Theorem
Chapter 8.1 and 8.2 – Confidence Intervals for Continuous Variables
As you will see, I generally ignored categorical statistics and focused only on continuous variables. This is because I geared the course toward nurses and I imagined them dealing with lab values and blood pressure measurements a lot, which are continuous.
For each unit I covered, I created two sets of video resources:
Chapter lectures: I made slides to explain the chapter to the nurses, then recorded the lectures. I did this to focus the more generic textbook information on healthcare.
Demonstration: I called these "Quiz Prep". I made my own quizzes for this course (so I could focus it on healthcare). I also made study guides I called Quiz Prep for each quiz. Quiz Preps were identical to quizzes (same format, same kind of questions), but each question was slightly different on the quiz. That way, I could provide the answers to Quiz Prep and work out Quiz Prep, and it was a good preparation for the real quiz. So in addition to posting these materials on our course management system for the students, I also made a video of me working out all the questions.
Materials for purchase: All of the videos are free on YouTube, and the slides are free to download on this page. If you are a student and you want to receive the blank Quiz Preps (and their annotated answers!) so you can follow along with those videos, then purchase the Student Package. If you are a professor and you want to use my materials as the backbone for your curriculum, get the Professor Package, which includes the materials in the Student Package PLUS matching quizzes you can use (that are formatted so you can program them into an online course management system if you are teaching online).
Educational Resources
I wanted to make this post to collect all these resources together in one place. For the lectures, you can download the slides from this page (see button under each video).
Updated August 26, 2019.