My colleague Josie Haywood, President of Wiseiye, Inc. which is a data science company in the fintech space, alerted me to the overtures to minority- and women-owned small businesses being made by the Massachusetts Gaming Commission (MGC). On November 14, 2019, the MGC held a meeting specifically to encourage minority- and women-owned businesses to serve as vendors for these casinos. At the meeting, contacts from the casino organizations themselves as well as representatives from the casinos' surrounding communities presented and were available for introductions.
First, they talked about the three Massachusetts casinos, and then they described the joint priorities of the casinos and the MGC. Of course, Josie and I became very inspired by what they said, and started dreaming of analyzing casino data, and doing casino market research surveys and focus groups.
Consequently, we wrote a white paper using publicly-available data on Massachusetts casinos in hopes that this will encourage Massachusetts casinos to contract with us for more in-depth data science and business analysis. This blog post is to share the highlights of our white paper with you, my faithful readers.
Meet Our Massachusetts Casinos!
Watch our video about our white paper:
Here are the three casinos we currently have in Massachusetts:
Plainridge Park Casino (PPC): This is the first casino with slot machines that opened in Massachusetts after the expanded gaming law passed, in June of 2015. PPC, which is located about 45 minutes by car from Boston, is actually a converted horse track, so there is an indoor section for betting on remote racing. In addition to being the oldest of Massachusetts casinos, PPC is the smallest, and unlike the other Massachusetts casinos, it has only slots for gaming and not tables, and has no hotel on site.
MGM Springfield (MGM): MGM Springfield, the second casino founded in Massachusetts, opened in August of 2018 in downtown Springfield with much fanfare. Springfield is in western Massachusetts, which is a strategic location to compete with the Connecticut and Rhode Island casinos. And Springfield had fallen on hard economic times, so the idea of a downtown casino was seen as a way to reinvigorate western Massachusetts.
Encore Boston Harbor (EBH): Encore Boston Harbor is the result of an interesting project that aims to both enhance the economics and social activities of a community while cleaning up a contaminated industrial site. Unlike MGM and PPC which are integrated with local communities, EBH is placed on a previous industrial site offset from the local community. Unlike PPC and MGM, EBH was designed to be a flashy destination casino and hotel, like the flagship hotels from the same company in Las Vegas and Macao. EBH is located in the close Boston suburb of Everett which is easily accessible by public transportation. EBH opened in June of 2019, so as of this writing, it has a short history.
MGC and Casino Priorities
At the meeting, representatives of the casinos and the local communities presented together about the following shared priorities:
To have each casino serve as a high-quality gaming destination. They made it clear that gaming is not supposed to be the main attraction at these casinos. Rather, gaming can be used to draw in groups of people who include some gamblers, and the rest of the party can enjoy other activities. Nevertheless, using gaming as an attraction to the out-of-state customer who wants to be staying for a few days at a resort is a reasonable marketing message.
To have each casino serve as a high-quality community entertainment destination. As opposed to their approach to gaming entertainment, the casinos made it clear that they are not looking to become out-of-state tourist destinations for non-gaming This makes sense when you think of the outlet malls and Foxborough stadium near PPC, the music and sports venues near MGM, and the multitude of attractions already in Boston near EBH. Instead, the casinos envisioned their non-gaming entertainment as being aimed at attracting locals as repeat restaurant, spa, or short-stay hotel customers, or participants in local events.
Here Are Visual Comparisons Using Data about Massachusetts Casinos
If you are like me and regularly visit Massachusetts casinos, or you are someone who is thinking of taking a vacation to visit Massachusetts casinos, you might benefit from these comparison infographics I made so you can target the perfect casino for your desires.
Do you like a casino that's been around a while? Then Plainridge Park is your pick. If you prefer one that just opened, Encore Boston Harbor is a win for you.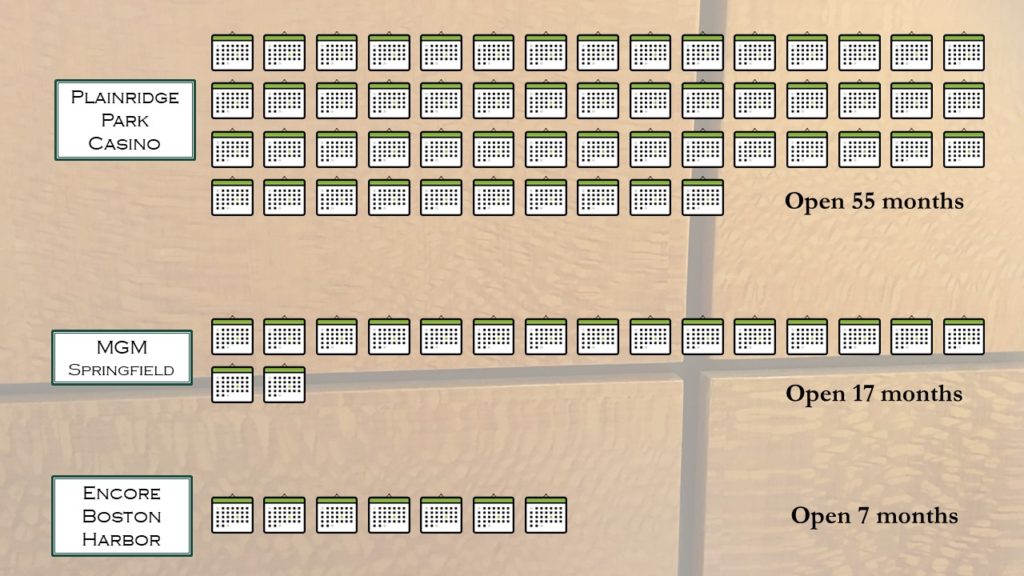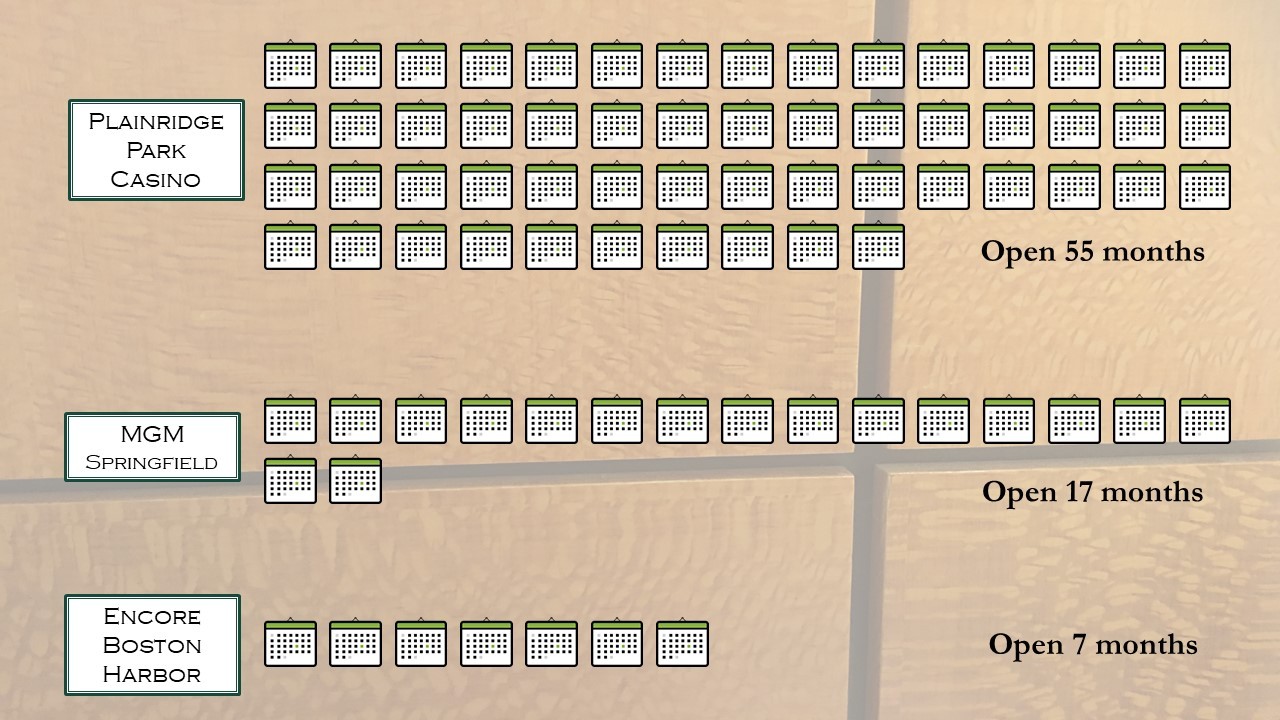 Want a big gaming floor? Then pick MGM Springfield. Want a super huge gaming floor? Then pick Encore Boston Harbor.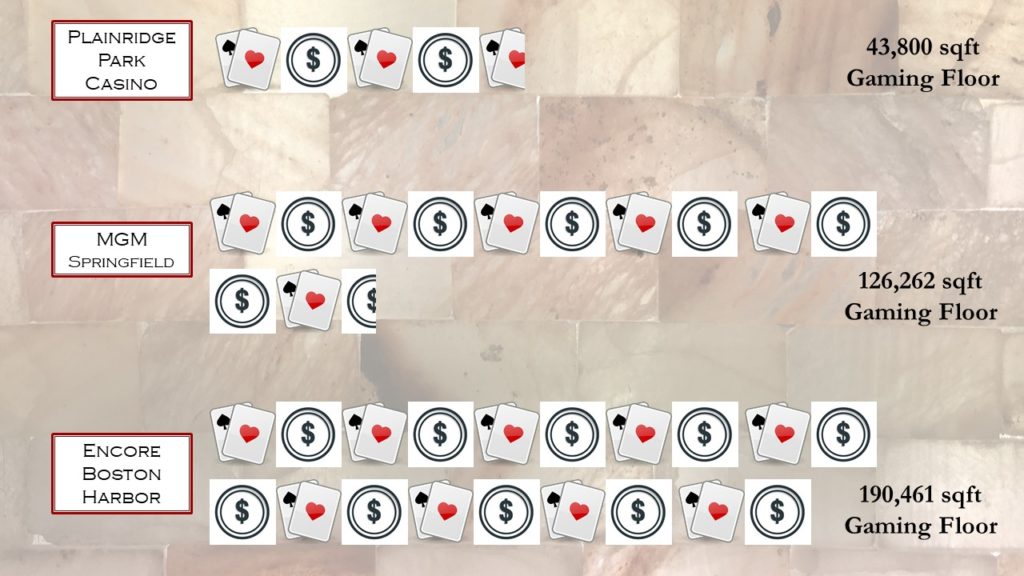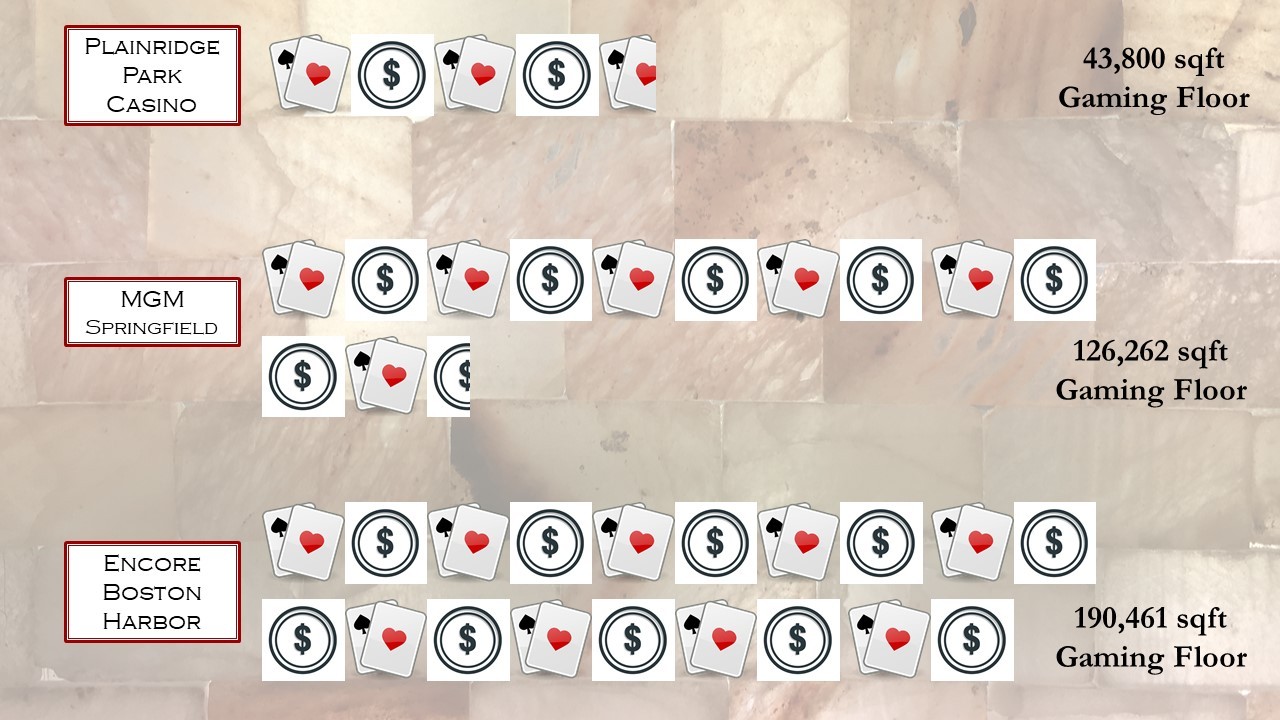 Are slot machines your thing? Then you will be equally satisfied at MGM Springfield and Encore Boston Harbor, as they both have over twice as many slot machines as Plainridge Park.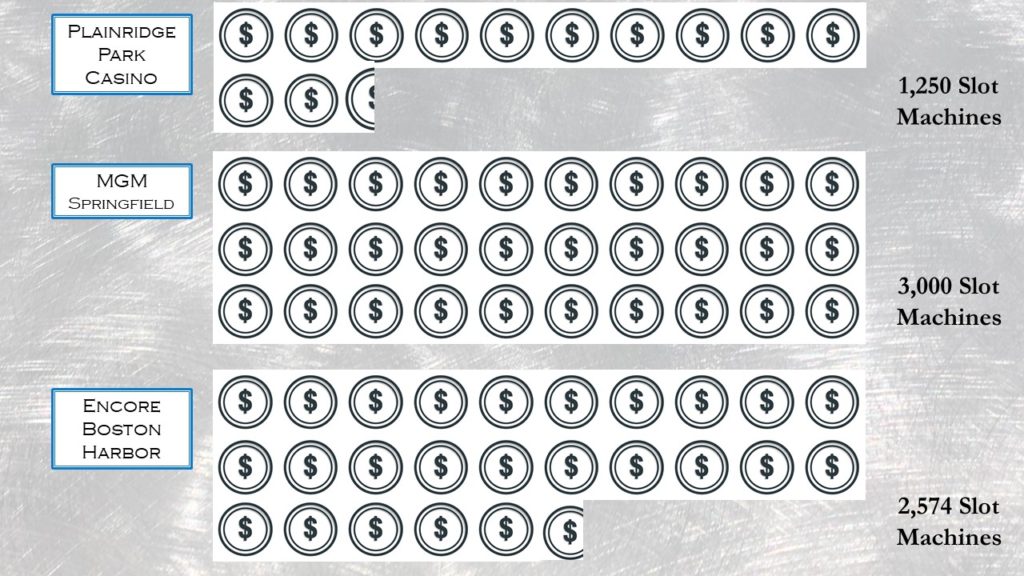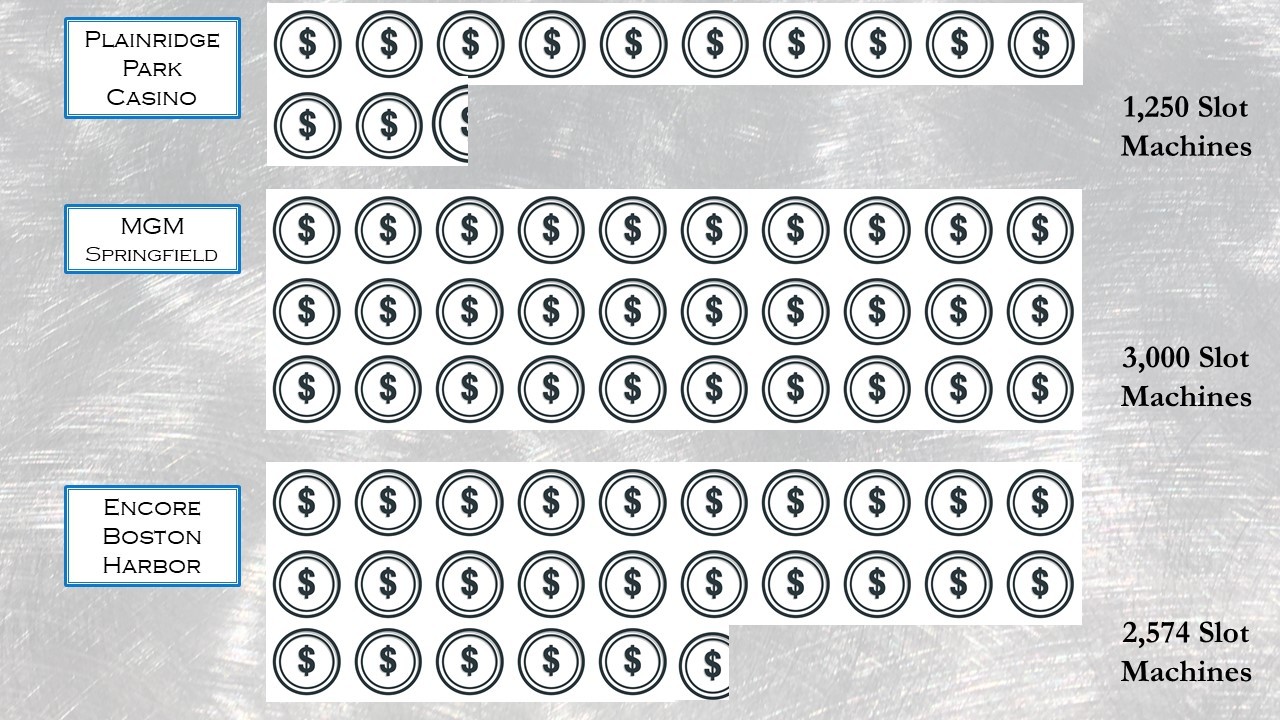 Prefer playing the tables? Unlike MGM Springfield and Encore Boston Harbor, Plainridge Park Casino does not have tables or hotel rooms. So, if you want tables, it looks like your best bet is Encore Boston Harbor, which has over twice as many tables as MGM Springfield.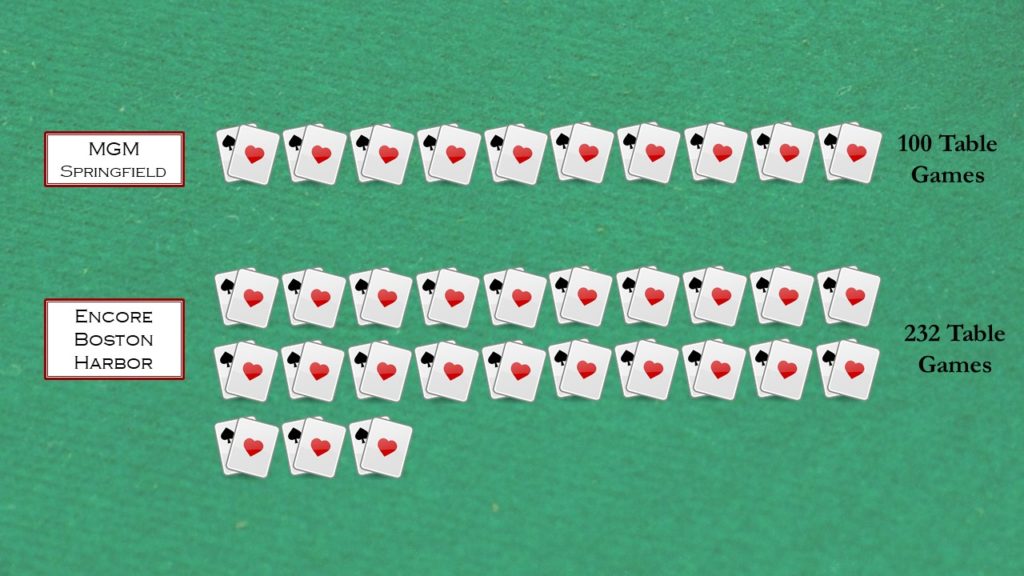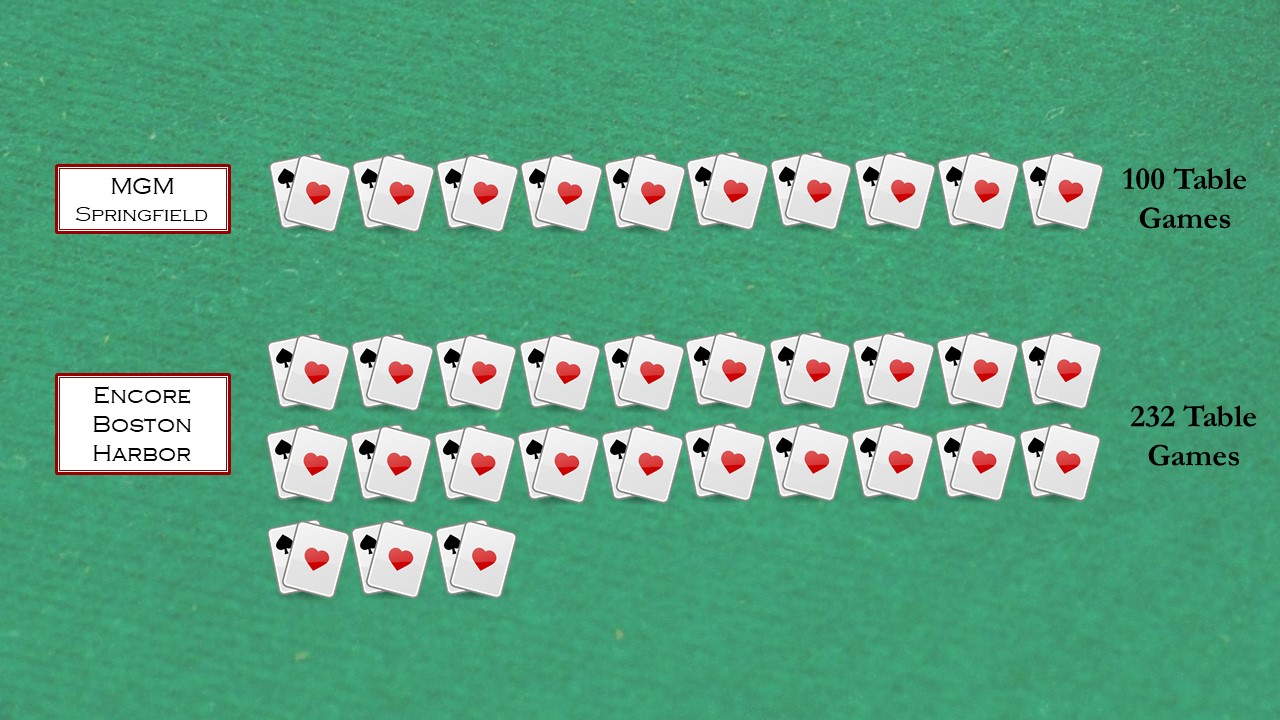 Love the casino hotel rooms? If you are like me, you are a huge fan of the glamorous hotel rooms in casinos. If that's what you like, then you have almost three times as many rooms to choose from at Encore Boston Harbor compared to MGM Springfield.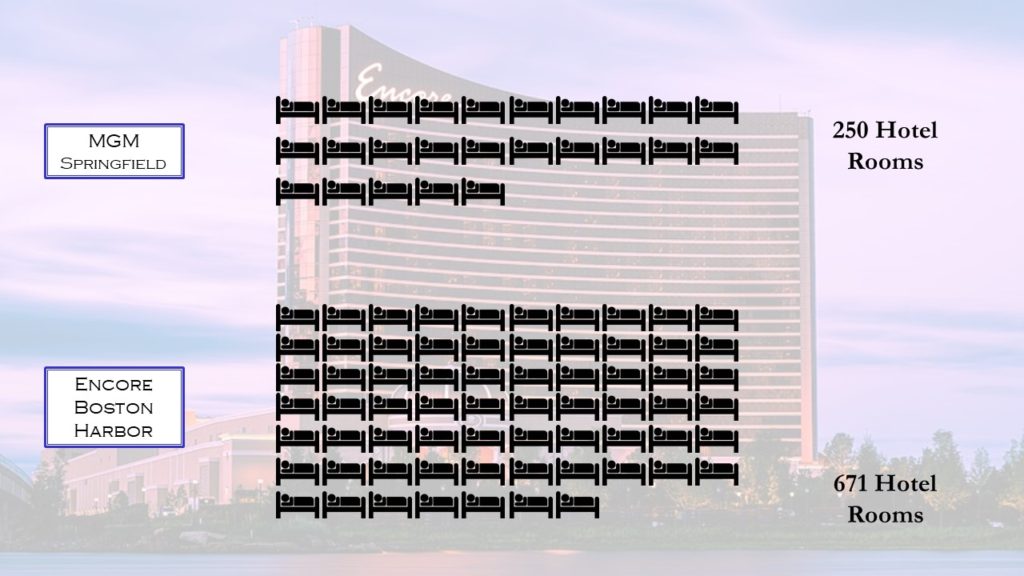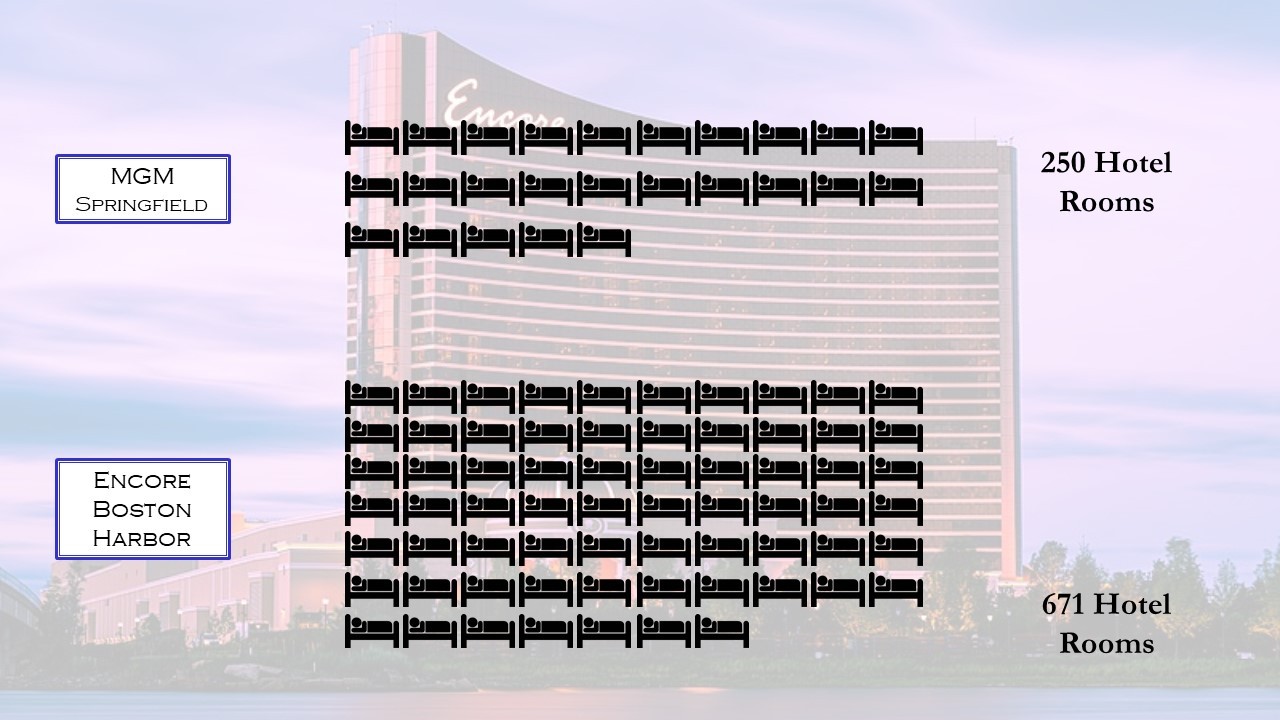 But quantity is not quality. Just because a casino may have more slots, tables, or hotel rooms doesn't mean they necessarily have the ones the customer wants.
Data Sources We Used about Massachusetts Casinos
That's why we wanted to do a more in-depth analysis of Massachusetts casino data. We used the following data sources:
Results We Found from Massachusetts Casino Data
Here is a short summary of what we found:
Massachusetts does not perform as well in attracting casino revenue as several other states of the same population size.
Gross gaming revenue (GGR) per slot machine and per table varies widely between the three Massachusetts casinos. This suggests that some slot machines and tables are more "efficient" than others.
Payout percent for Massachusetts casinos is low, making them vulnerable to competition from out-of-state casinos and online casinos.
In fact, I'm so exercised about the payout percent findings I will share one of the plots from our white paper here.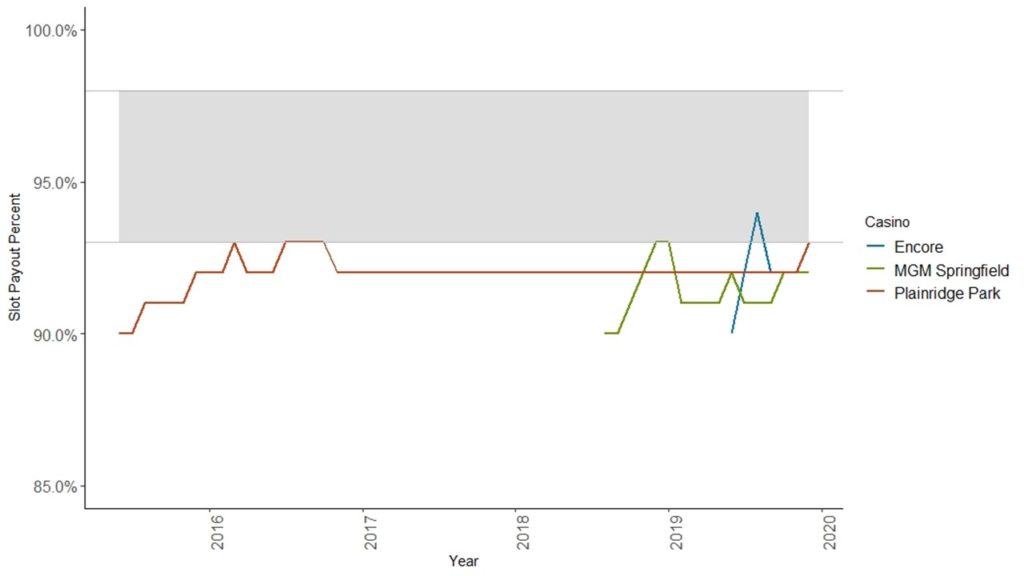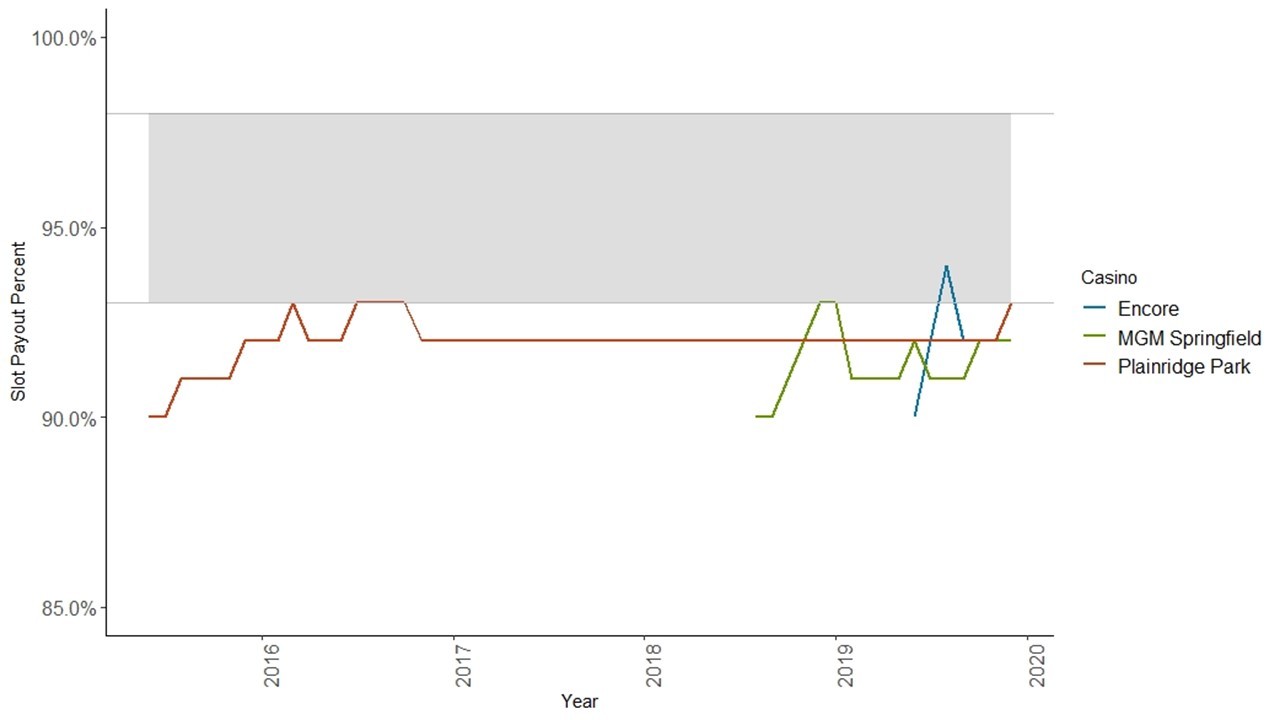 As you can see, in all time periods and at all casinos, payout percent hovers between 90% and 95%. The shaded area of the chart shows where the payout percent is for typical online casinos, so this shows that slot players who are choosing between online slots and land-based casino slots will likely opt for staying home and playing online when they see this very low payout percent.
I'm also thinking about the choices we have as casino customers. People from New England can visit casinos in CT, RI, MA, and ME. Why not go to where there's the best payout percent?
Payout percent is definitely a big weakness in the performance of Massachusetts casinos, in my opinion. Here are the six recommendations we make in our white paper:
Updated February 13, 2020. Revised for formatting January 12, 2022.
Image credits: Photograph of Encore Boston Harbor casino in infographic by Sreyan Sarkar. Map of Massachusetts in public domain available here. Image of poker chips and cards by Victor Vic.
Want an example of a portfolio project in data science? We analyzed data on Massachusetts casinos that was in the public domain as an example. Read this blog post for the results!